We are still waiting for the official release steam deck Dock—now called Steam deck docking station, btw – but on the bright side, at least it now had a small update before it even got into our hands. Or Decks. Or secretaries. Or wherever.
Perhaps realizing there's no place for USB 2.0 in any new PC dock in 2022, Valve changed the Docking Station's port configuration to include three USB 3.1 Type-A connections ahead of its imminent release. We were still promised it will come in late spring, so, er, someday now?
Originally there would only be a single USB 3.1 Type-A port, with the other two connections restricted to the older USB 2.0 specification, but now they're all high-speed connections, baby. Although we are still restricted to just a single Type-C port to power the Dock Station.
It was actually listed as such for a while, we just didn't notice until it was pointed out by GamingOnLinux recently. If you check the WaybackMachine, you can see that Valve quietly released the update in mid-February and eventually handed over the Docking Station name a little later that month instead of the original 'Official Dock' moniker that was going on. under until then.
Valve also updated the image detailing the dock port layout, confirming that it also supports Gigabit Ethernet. Previously, both the image and the specs only listed "Ethernet" without any speed qualification.
I have to admit that I'm still a little sad that I couldn't get the Steam Deck to work well with my Eve Spectrum's built-in USB Type-C hub.
Image 1 of 2
Image 2 of 2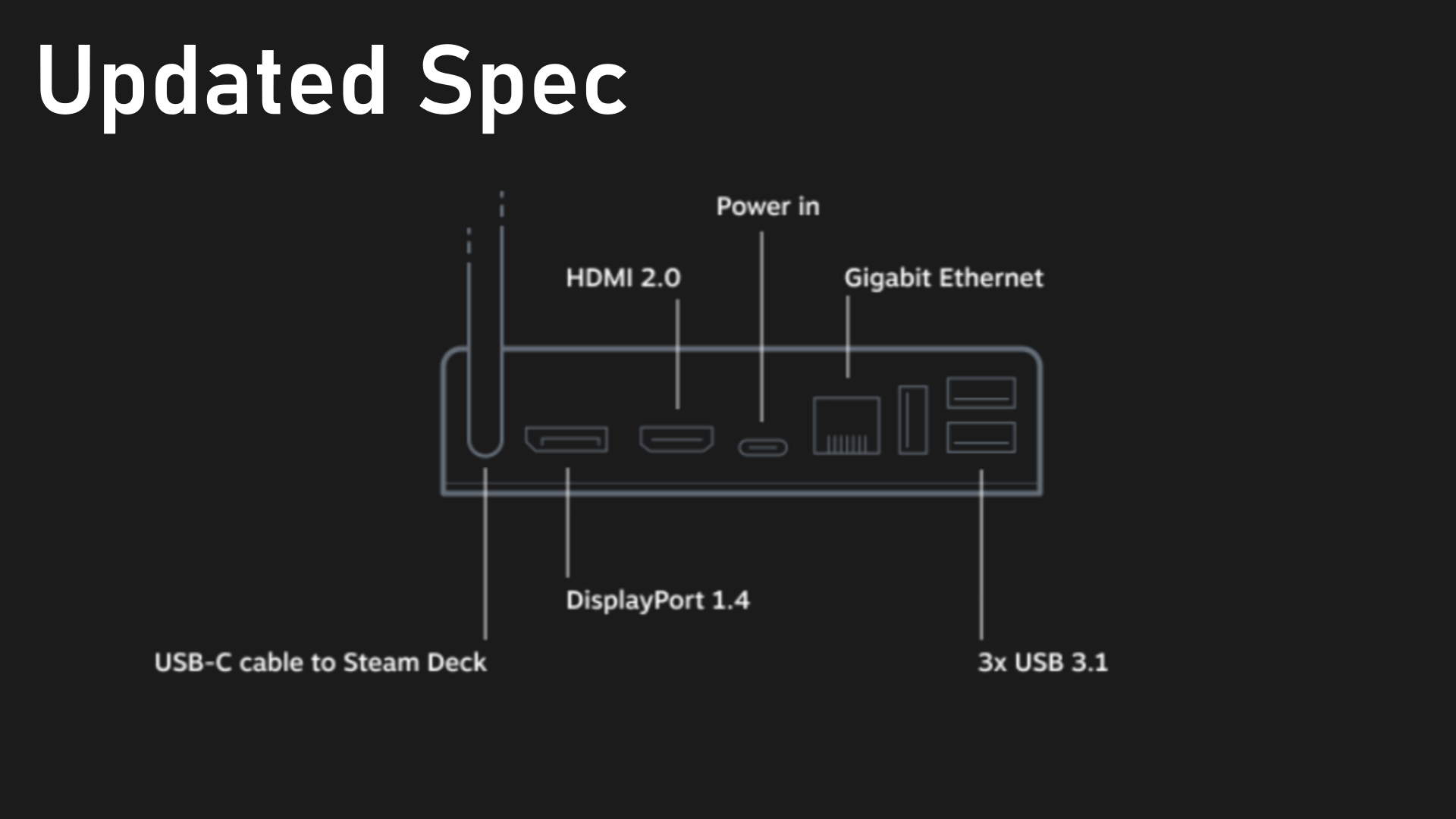 That would have been a great way to connect to a screen with a keyboard and mouse ready and waiting, and power coming in from the other side to keep it charged… and no extra docking station needed.
But these are the pauses; maybe one day the numerous Deck updates will turn DP's alternate mode to a state where it talks to my monitor without dock.